Connections that Count
Labels and designs from QLM Label Makers feature in the latest edition of PKN Packaging News – including the sensational cover: Jason Kong Gin Labels by Seekers Independent Spirits
The following is an excerpt from the story written by Lindy Hughson.
The current pandemic crisis has highlighted for brands the importance of meaningful connection with consumers. Packaging is the optimal engagement platform and, thanks to advances in digital printing technology, the scope for creativity is almost unlimited. Lindy Hughson writes.
LIMITED edition packaging launches have hit lift-off in recent months, with brands making use of their packaging to communicate solidarity with Covid-19 frontline workers as well as provide support for consumers and important social causes. Brands big and small have rolled out limited edition packaging as part of cause-based marketing campaigns.
FRESH IDEAS



Healthy Sprout Company (HSC) is an Australian brand owner that provides healthy products to enhance health, vitality and wellbeing. To promote the release of its latest Healthy Sprout product, Broccoli Sprouts, HSC wanted a playful twist on the existing branding to create something unique and interesting on shelf and deliver a fun and innovative product launch.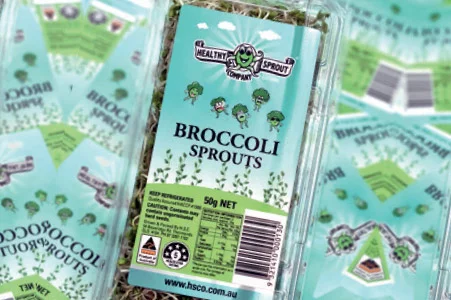 By adding new and changing elements to an existing label design, HSC was hoping to capture the attention of a range of demographics. Owner Adam Murphy wanted the labels, just like the sprouts, to "deliver something fresh every day".
HSC collaborated with QLM Label Makers to create a range of fun sprout characters, clouds and sprouts that change position on every label. The technology employed was the HP SmartStream Designer plug in for InDesign or Illustrator with the HP Collage functionality used to produce unique labels with fun and interesting combinations.
"The launch of the new product allowed for an exciting story to share with customers and retailers," explains Lindsay Nutley of QLM Label Makers. "HP Collage enhanced the design and created a playful and vibrant version of the customer's existing label design.""It was a unique label idea that 'sprouted up' out of nowhere to grow into something that would attract consumer attention on crowded shelves," HP's Andersen says.



COLOUR CUT-THROUGH
Colour is one of the greatest distinguishing elements in a brand's packaging design and used well it can create clear cut-through in a cluttered media environment. "Strong brand colours are always a great asset, on-screen and offscreen," Andersen says. "Vibrant hues catch attention and raise engagement. The use of Indigo inks' vivid shades can allow key brand messages to stand out from the rest."
Colour is a central cue in the striking Jason Kong gin pack design featured on this issue's front cover. The brands, owned by Cambodia-based Seekers Spirits, have always differentiated on-shelf with beautiful design. For their newest addition, Jason Kong, Tania Unsworth and Marco Julia Eggert wanted to create an eye-catching design, and relay through the packaging the vibrant Southeast Asian spirit they aspire to capture in their gin product.
Working with QLM Label Makers marketing team and using HP Collage, they created the label design with a combination of vibrant colours and elements that moved and changed on every label. They also used variable data printing in their strategy to communicate batch and bottle numbers. These unique labels reinforce the brand's key message of living life in full colour and celebrating their consumers individuality.
5000 variable labels were produced through HP Collage and were printed on an HP Indigo 6800 Digital Press. "The labels popped with colour and visual movement that created a unique story for the brand," Tania Unsworth says, "and also made for great Instagram imagery."
Graphic design trends are as dynamic as fast-spreading global pop culture, with 'what's hot' and 'what's not' being decided in an instant, or in an Instagram moment. In such a connected world, keeping a brand's look and feel on trend keeps the target audience captivated.
"By creating unique printed and digital assets that engage consumers and drive social media posts, brands can leverage the 'Instagram effect' to attract customers," HP's Andersen concludes. And as digital print moves from the realm of niche to mainstream, brands small and large employing this technology will be best placed to tap the value of connection through packaging.
Read the full story here: PKN Packaging News in the September / October 2020 edition
MAIN: Jason Kong gin labels pop with colour and movement, creating a unique brand story.
Healthy Sprout Company chose digital print to create playful variation across packaging, with clouds and sprouts changing position on every label.
Connecting in a crisis: Nestle's KitKat R U OK? packaging