Great examples of personalised labels and packaging are characterised by an ability to connect with consumers, showing content, creating offers, making product recommendations and delivering experiences that are specifically aimed or suited to an individual customer. It is all about sending the right message or thing, to the right user, at the right time. 
Personalised and customised 'experiences' are now an essential part of building strong brand identity and maintaining a competitive advantage, because more and more people are looking to brands that they identify with on a personal level. For businesses of all sizes that means consumers are  significantly more likely to shop with brands that recognise, remember, and reward them with offers and information that are relevant.
personalisation starts with data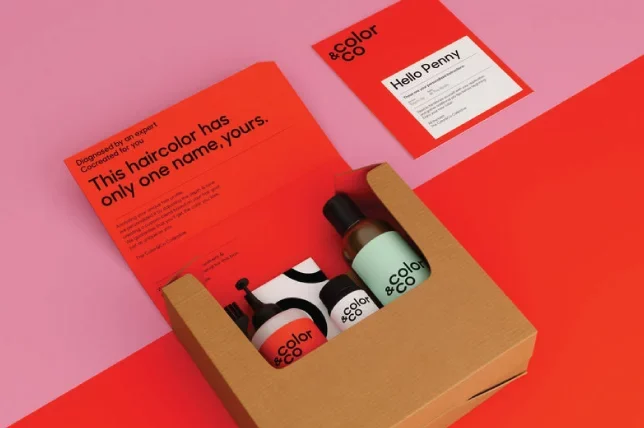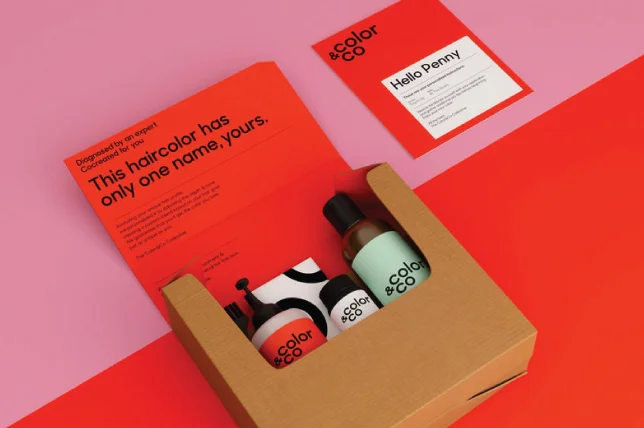 Color&Co, from L'Oréal, is using their data and technology to connect hair colorists to clients via video chat and create a personalized kit that contains everything they need for an at-home dye job.
image source: colorandco
To personalise or customise experiences that resonate, you need to understand your customer. One of the easiest ways to do this is to look at purchase history. This gives you an indication of what things the customer is buying from you and then extrapolating from that what they might be interested in. The problem for many businesses is that their systems don't collect information, or aren't able to translate it into something meaningful OR that they simply don't have the time or resources.
If you are wanting to do anything at scale or effectively manage the effort required to personalise or customise labels & packaging then you will want to look at some form of machine learning software that dynamically builds and analyses data based on specific customer behaviours, purchase history or personal data. Privacy Laws dictate how you collect, utilise and share data or information collected by companies. Best practice is to use opt-in approaches and provide transparency of data usage. This collection, storage and use of data for personalisation and customisation are an investment in building relationships and creating better experiences for your customers. 
Is there a difference between personalisation and customisation?

The answer is yes it is different and no it doesn't matter. Personalised labels & packaging tend to be person-centred whereas customised labels & packaging tends to be product-centred. They often interlink and cross over so it isn't necessary to worry too much about terminology.  
Why customising labels & packaging works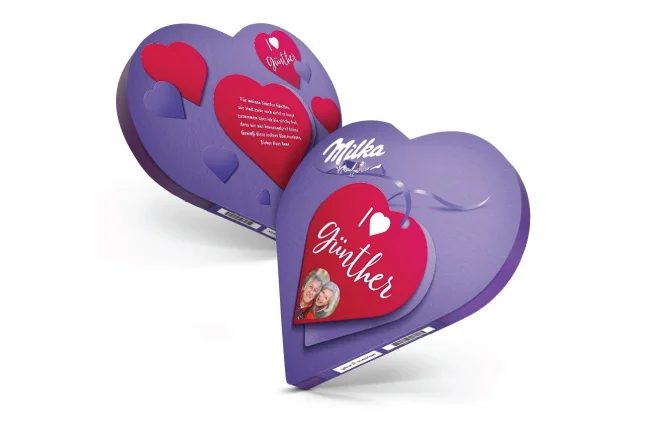 The Milka chocolate gift box can be personalised with customers' names and personal messages.
image source: milka
People love personalised and customised labels & packaging because they make them feel special. The elusive and exclusive nature of these products have become synonymous with gift giving for 'the person who has everything' or for those who are disconnected either socially or geographically, as a way to 'connect' and show you care. It is also popularised with social media as 'sharing' becomes the new referral method.
It is a great way to show you understand your customer's interests and needs, creating an emotional connection to foster longer term brand loyalty. Customisation and personalisation can be achieved in many more ways than electronically:
| | | | | |
| --- | --- | --- | --- | --- |
| Labels | Cards, Notes &promo inserts | Mailers & Shipping Boxes | Product Packaging  | Flexible Packaging   |
| | | | | |
| image source: bearnaked | image source: takecareof | image source: QLM | image source: QLM | image source: sweecheeks |
How do you achieve personalisation and customisation with your labels & packaging?
Many brands find it too challenging to create personalised or customised marketing campaigns that appeal to a desired target audience. So, how do you get started? 
Start with NAMES but don't stop there!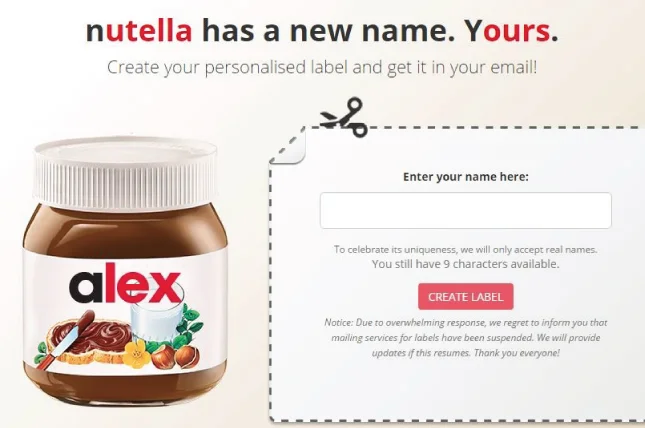 Nutella used personalised labels to engage fans and encourage loyalty. In addition to buying for themselves many customers bought it for partners, parents or friends.
image source: nutella
You have an understanding of what your customers or target customers are and like. Create options for personalisation and customisation that speak to that. Printing someone's name on a product has been demonstrated to increase sales and generate brand interest and recognition. From Share a Coke to Nutella, naming generates not just brand interest but is all about that magical marketing desire: to build relationships and brand loyalty. Receiving or having something with your name on it creates a particular bond or association. It is highly emotive and can be used to develop and sustain an affinity with a brand. Food and beverage companies have led the way but many other brands and industries are now starting to link their consumers and names to products.
Go further: Other popular ways to customise and personalise packaging is through seasonal themes, geographic locations, animals and sporting or special interest groups, but there are other ways to get more granular and specific. Highly differentiated customer market segments are being used more and more for niche approaches to speaking the language and benefits of particular market segments.
Who drives the design and messaging?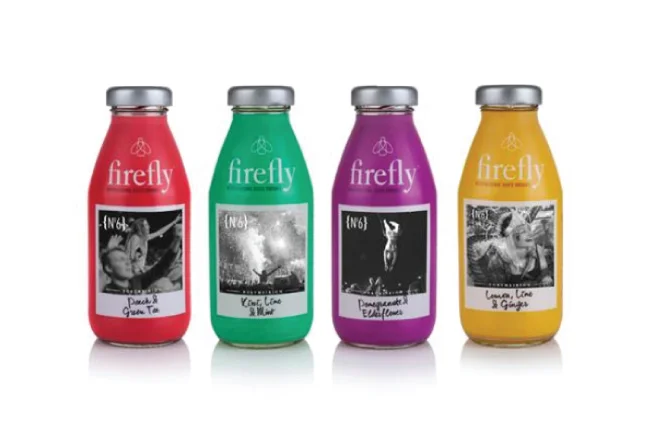 Firefly drinks brand unveiled a consumer campaign called 'My Firefly' to celebrate the relationship consumers have with the brand and drive deeper engagement. Consumers were be able to pose in front of a Firefly bottle-shaped photo booth with props and costumes and then buy their personalised bottle immediately.
image source: fireflydrinks
In choosing the designs or messaging you have 2 choices: you decide or the customer does. Customer driven designs can have the customer choosing from a range of names, images and layouts to dictate the final layout and messaging of the labels or packaging. The result is usually that the customer gets exactly what they want, but the company has less control over the aesthetics (or at least some control of how and who the message connects with). Companies and brands seem to be getting braver at allowing this to happen but it does require software to enable and streamline the process for ordering. Company driven personalisation and customisation requires the company to make these decisions and 'target' them with information and designs they think will resonate.
Print ON-DEMAND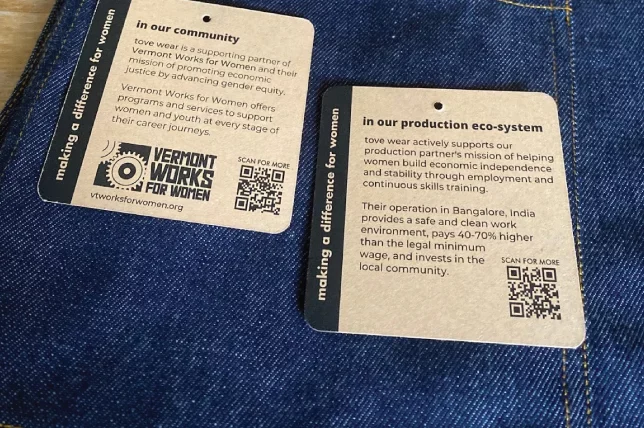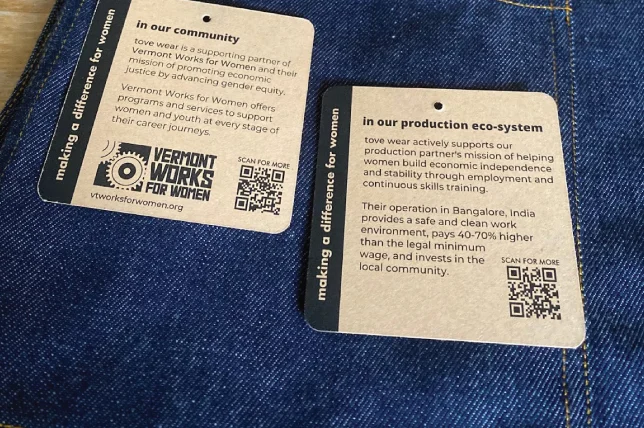 Tove Wear extends the physical unboxing even more through QR code hang tags that send folks to a digital destination to learn about their production process and the partners, Vermont works for Women, they support.
image source: tovedesign
If you want to test the market or do the printing yourself you can also print them yourself. Barcode or thermal printers enable you to print personalised and customised messaging on a range of labels and packaging in a highly affordable way. If you don't have a thermal printer you can start with your regular toner based printer. There are pros and cons of each but when you start it is about being economical and ensuring it fits within your budget. The advantage of these printers is that you can do it in-house with the data you have collected with orders and provide a degree of personalisation and/or customisation simply by applying some common sense marketing ideas. Add colour and WOW with pre-printed labels or packaging. You can also design and have printed 'base labels with colour and branding and then just add the personalised or customised bits of information when you are preparing and/or dispatching.
Personalised & Customised Labels & Packaging available NOW from QLM
People are usually willing to pay more for personalisation. Why? Because it makes them feel good (or great). By buying what you need and when you need it you are able to control other costs and cash flow as well as varying the print and designs to ensure you stay current or adjust for campaigns as required. The use of digital print technology and software like the HP Indigo print platform and HP Smartstream Software solutions used by the QLM Label Makers Group allow for easy, fast and timely adoption of names, static and dynamic barcodes and other variable data, including personal and emotive content like photos, images and other rooms. Imagine what you can create for specific audiences if you target them with designs broken down by interest, generation, geographies or other things. If you need help with design or marketing considerations be sure to discuss this with your dedicated sales team or contact our award winning marketing team to discuss how we can bring your labels alive.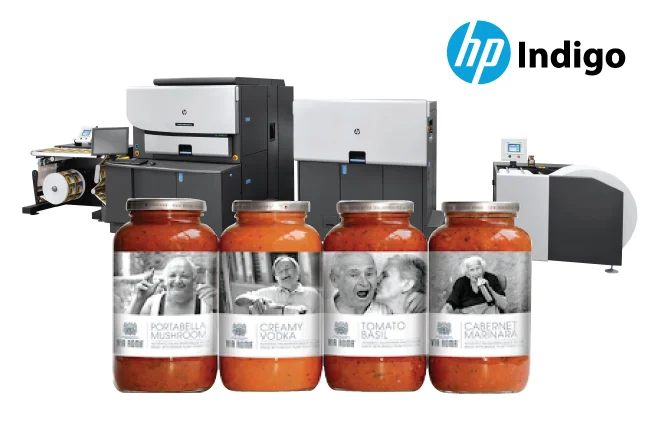 This authentic Italian brand, Via Roma, shows their true customers, expression & emotion.
image source: viaromafoods