2023 is moving on and moving forward with a range of challenges and opportunities ahead. What is undeniable is that flexibility and adaptability are key to brands and companies not only surviving but thriving! We have been scanning the world for the hottest trends in labels, packaging and design.
From a myriad of possibilities we have narrowed it down to the TOP 6 HOTTEST TRENDS in labels, packaging and design that are likely to be the most influential, impactful and filled with opportunities to increase your sales. Check out our predictions and let us know what you think in the comments.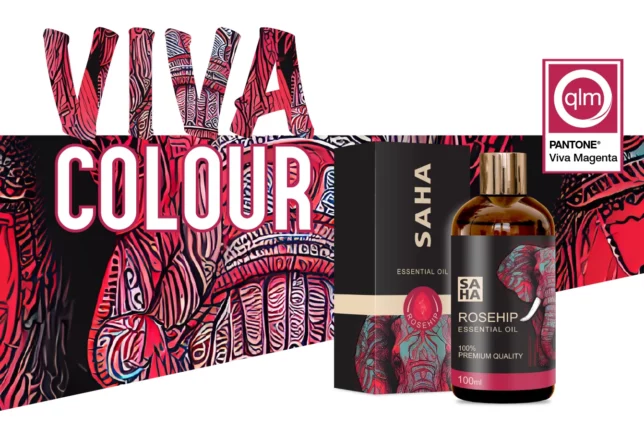 VIVA COLOUR
colour combinations that pack a punch!
With Viva Magenta being named Pantone® Color of the Year for 2023, there is a definitive push towards colour palettes that utilise bold, bright and beautiful colours, designs and font choices. They are being used in combination with the 'minimalism' aesthetic, where designs minimise clutter and allow for key features and images to be the focus. But, this will be done in a way that is anything but simplistic.
There is a complexity in the designs and a sophistication in the way that colours are used and interact with other graphic elements that are really exciting. 2022 saw the use of lots of softer tones to create a sense of stability, whereas 2023 is more about colours that break-out and are unafraid. Be sure to check out the Pantone® colour palettes for inspiration and ideas.
Startups and disruptors are often the first to explore new colour combinations, but established brands that are looking to re-emerge or re-align with their customers are also looking at ways to get attention back on their products. Whilst not as SHOUTY as the designs that dominated the early parts of the 2000s, you will want to get your design gloves on and be prepared to take a swing at some bold and bright colours in 2023.

---

LET'S GET FLEXIBLE
flexible packaging bends it better than Beckham!
From stand-up pouches to sachets and 3-side seal bags, flexible packaging is the fastest growing segment of packaging for many brands and products. The reason for this is often based around a number of pragmatic and aesthetic benefits that flexible packaging provides. It is lighter, less prone to breakages and allows for a wide range of sizing options to suit varied and staggered product types or weights.
The packaging is able to be stored with a much lower volumetric footprint, plus, with the utilisation of digital printing presses, you can control your inventory by printing only the volumes you need AND with as many styles and variations as required. There are minimal set-up costs and the lead times for flexible packaging can be as low as 2-3 weeks.
From a design perspective, flexible packaging is highly popular because it allows for 360 degree graphics including clear options for product windows or metallic materials to create lustrous finishes and shine. With relatively easy options and equipment to fill and seal packaging, the ease, convenience and features of flexible packaging will continue to grow in 2023.
---

DRAW

ING

ATTENTION!
illustrations create depth, meaning & connection
2023 will feature oodles of doodles. Drawings and illustrations are experiencing a renaissance in design as the use of and importance of traditional artwork, authentic and locally influenced designs and drawings allow brands to create a down to earth, localised feel to their products. International brands are also cleverly using illustrations to highlight specific geographic regions, things of historical importance, as well as signs, artwork and architecture that give a particular regional, cultural and social relevance to their products.
Brands looking for the 'it' factor to enhance their story or designs are using custom typography referred to as 'Scrawl' to develop unique identities and designs that connect with their customers. Character or mascot use is also booming! These can be humans, animals or inanimate objects, but rather than using real people, brands are increasingly moving towards more reliable and lovable 'characters' to sell their brands. Forgoing the concerns of outlandish behaviour, outbursts or affiliations that may alienate their customers, characters are developing a depth and realism that has moved from the simplistic 'critter' marketing' we saw in the early 2000s (and before), to more developed and refined examples.
As 2023 is the Year of the Rabbit (Cat in Vietnam) you can also expect to see lots of these appearing in designs and packaging.
---

TECHNOLO-GEE!
artificial intelligence in design gets REAL! 
If you thought that smart packaging and design was only for techno-geeks or something for the future then you had better strap in because 2023 will demonstrate how technology is being adopted and loved by even the most traditional of artists and designers. Augmented Reality and Mixed Reality adoption has grown slowly in label and packaging design, partly because they require advanced skills and engagement that can be complex and expensive. Areas like training and service manuals continue to see a stronger uptake, while other consumer goods have tended to leave this option for larger or higher budget campaigns.
What is booming right now though is the use of AI (artificial intelligence) in design. Creating designs using AI software is working with designers and design teams to connect productivity with creativity, as well as the heart and emotional connections that are often missing when used. What they will undoubtedly do is bring the benefits of increased speed and efficiency as well as the ability to perform otherwise time-consuming tasks in a way that allows designers and marketing teams to focus on other areas including personalisation, customisation and connection.
The desire for software to create a higher volume of designs as well as easier options for personalisation, customisation and 'smart packaging' received a lot of attention in 2022, due largely to the boom in online deliveries, but it is in combination with design tools and safety features that this technology is set to go into hyperdrive in 2023.
---

SAV

OUR

THE

FLAVOUR
scents and smells are all in good taste
In a world where the need to engage is more important than ever, the sense of taste and in particular, flavour, is going to feature heavily this year in labels, packaging and design. 2022 showed a major revival of the use of textures, touch and feel, so brands are now engaging the olfactory sense of taste (in combination with smell), to get customers to crave their brand and products more. Achieving this is in packaging and design can be much more challenging. In some instances, colour and visual associations in designs can stimulate the salivary glands, literally creating a desire to consume the product.
This may sound unusual, but well constructed designs can stimulate the sensation of actually tasting something. It is most easily achieved for food and beverages but other products like cosmetics and FMCG products use taste and smell to generate associations with places or emotions. The best examples are the use of fruits, botanicals and other oils that give a reference to wellbeing and even sometimes holidays. Earlier attempts at this have used techniques like 'scratch and sniff' labels, with varying degrees of adoption and success. The more sophisticated approach now is to use designs and imagery in combination with windows and use of the colours that align with emotion.
Being aware of emerging trends in taste and flavour can impact colour choices and combinations as well as how your products are best designed to send the right flavour message. You'll want to take a big bite of this trend!
---

STACKED OUT

BACK 
check out what's behind products
They say it's what's up front that counts, but 2023 will see a plethora of brands utilising the back of packaging more to relay information and create connections. While the front designs will be as important as ever, the back side of packaging is ramping up a range of marketing options and information that satisfy the customer need to be informed about products and their origins. As the push to more localised sourcing and footprints becomes even stronger, some brands are taking advantage of this to highlight their brand story and give consumers the information they are looking for.
You will see packaging and labels that are loaded with information on brand stories and personal connections (yes those influencers are still making an impact), information about the provenance of goods including the source and type of ingredients, nutritional information and claims and also a range of re-order and engagement options. QR codes will link to a multitude of options including e-commerce, informative videos and the ever popular gaming and entertainment options (like TikTok and other emerging video formats).
There is also a growing use of the back of packaging to provide security options for brands AND consumers. Validating products to confirm their authenticity and provide a range of other options and sources of information is starting to become not only the way for brands to provide and ensure the security of their products, but also a way for consumers to be informed, safe and connected with the information they want and need.

We welcome your ideas too – so be sure to let us know if you think there are any that we have missed.