How do you create premium labels when you have hundreds of products with variable data that changes on every label?
The answer is Variable Data Printing, where you use blank labels or premium printed 'base' labels that are then overprinted using a thermal printer. This allows you to print on-demand and ensure your labels and tags are always current, compliant and cohesive.
Thermal printers are known for printing dispatch labels, but they can do SO MUCH MORE! Not only do they offer great value and flexibility when printing variable data, they can also be used for barcode labels, scale labels, box top promos and also to custom print labels and stickers with personalisation and customised messages.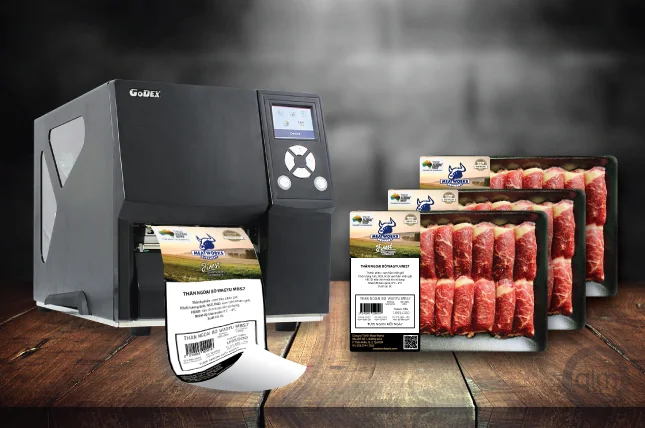 Thermal printers can print on blank labels or pre-printed 'base labels and tags' across a wide range of applications and industries. Advantages include FAST on-demand printing, ease of operation, low cost of production and low maintenance requirements. By only needing to keep blank labels or 'pre-printed base-labels' you save on unnecessary stock holdings and waiting for labels to be printed. In addition to labels, you can also create sleeves in either card or label material to wrap around products. Thermal Printers can use software like Bartender to create specific layouts for your labels from a database to ensure that the information is quality assured and compliant, avoiding costly operator errors. Thermal printers are able to print using heat (thermal direct) on special materials or using a ribbon (thermal transfer) to apply the information on a wider range of materials.
Meatworks is Vietnam's premium butchery, established in 2015 and now having 7 locations (6 in HCMC and 1 on Phu Quoc Island). They are dedicated to serving the finest imported beef and lamb products from Australia, as well as premium locally sourced pork. Proudly Australian owned and managed, Meatworks is all about providing premium gourmet products to the retail and wholesale Vietnam marketplace. 
Thanh Charles and his team from Meatworks use thermal printers to provide them with the flexibility to print variable data on every label, combined with premium printed 'base' labels that reflect the quality of the products and give them additional shelf appeal. Be sure to check them out online at https://meatworksasia.com/en/. You can also purchase their products at their stores or at the following locations: Tops D2, Go D7 & Go An Lac.
QLM distribute and service leading brands of thermal printers – ask us how you could utilise these labels for greater productivity in your business.