We are proud to announce that Elna Press has joined the QLM Group. Elna Press and QLM Label Makers combine two proudly Australian owned and operated companies with extensive experience at their respective factories in Melbourne and Brisbane, both committed to investing in Australian manufacturing, innovation and development.
Elna Press' prestigious history of service and innovation combined with QLM's modern manufacturing facilities & CARES values create a comprehensive Australian manufacturing platform for the QLM Group, significantly adding to their manufacturing capabilities. Elna customers will see an expanded range of products and services including premium & blank labels, folded cartons, flexible packaging and the sale & service of thermal & colour label printers & consumables. Elna Press will continue to manufacture at their Moorabbin address, with QLM's Victorian operation to relocate to this location during 2022.
Trevor Coon, former Managing Director of Elna Press states  "After 63 years in business, as one of the founding label manufacturers in Australia, our family has decided to pass the baton on to a new team to take Elna to the next level. We are delighted that Elna Press will be in the capable hands of Simon Pugh and his team at QLM. It has been a privilege for us to have worked with so many wonderful clients, often over many years. Their support and loyalty have meant a great deal to myself and our team."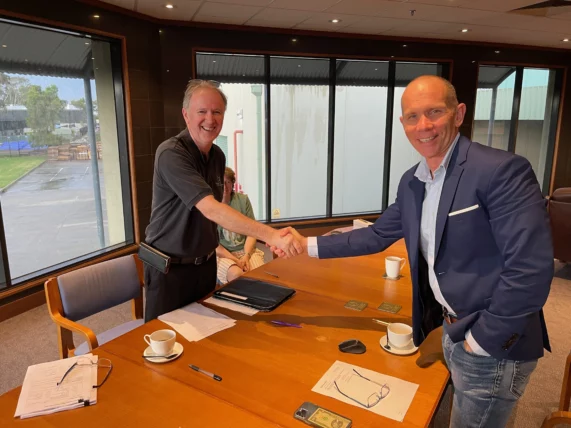 Trevor Coon former Managing Director – Elna Press congratulates Simon Pugh CEO QLM Group.
QLM Group CEO Simon Pugh states  "QLM was attracted to Elna Press as much for its strong history and manufacturing base, as we were for its culture aligning with our CARES values." The acquisition of Elna Press comes after an extensive due diligence with CDI Global and completes a number of acquisitions and machinery investment for the QLM Group in 2021/22, including the addition of a separate flexible packaging manufacturing facility in Melbourne. Pugh goes on to state  "The QLM Group maintains the need for strong Australian ownership and diverse manufacturing operations that offer an alternative to the multinationals who now own the majority of the label space. The completion of this acquisition takes the QLM Group to a local market presence where it is able to compete with multinational companies, while still remaining true to QLM's mission to create long-term, mutually rewarding relationships with all of our stakeholders." The QLM Group has built its success on providing a diverse and flexible manufacturing platform, delivering a range of options that work for client and job sizes ranging from local heroes through to multinationals.
Such investments clearly demonstrate QLM's commitment to reinvesting profits into the development of Australian manufacturing and personnel. Pugh goes on to state  "We are always looking for strategic and innovative investments in Australia, especially in great people, technology and also companies such as Elna which add to the depth of the Group. QLM also works to develop strong localised companies across Asia Pacific. We are the only Australian owned label company with a presence in APAC and we are proud ambassadors of brand Australia in Cambodia, Malaysia, Bangladesh and Vietnam, employing over 380 people across 5 factories in Asia."
The QLM Group has been adapting to dramatically changing business and manufacturing environments. Supply chain disruptions, government & travel restrictions and the substantial uncertainty surrounding business and personnel have seen the company work on maintaining stable and supportive working environments to ensure the continued safety of the company's team and the ability to maintain service to clients. Pugh states  "Our teams have been amazing during the pandemic, including the General Manager in Vietnam who lived onsite at our factory with a team of 82 for 9 weeks during a government imposed mandate for factory staff to live, eat and work on site. He was the only GM in Vietnam in this market who did so and it speaks to the company's values that no-one is more or less important, we just have different job responsibilities."
As President of AUSCHAM: the Australian Chamber of Commerce Vietnam, Pugh also sees the opportunity for FDI and the development of brand Australia and business linking in the Asia Pacific region. "Many companies are looking for a China + 1 supply chain strategy and there are an enormous number of opportunities for alternative quality suppliers in APAC. Likewise there are many Australian brands in food, fibre, IT, logistics, health care and energy to name a few sectors, whose products are a perfect fit for the Asian market. We are happy to share our experience in APAC to help light the path to an international business model and continue to bring brand Australia to the region."
QLM Label Makers was established in 1973 in Brisbane by Del and David Pugh and now operates manufacturing facilities in Brisbane and Melbourne, with sales offices in Sydney, Adelaide and Perth. The QLM Group employs over 530 staff across Australia and its operations throughout Asia Pacific. If you are looking to advance your career with a great team in the label and packaging industry, email: qlm@qlm.com.au with your details.
Elna Press was established in 1958 by the Coon family and is a founding company of the label industry in Australia. Former Managing Director Trevor Coon will remain in a consulting capacity for the QLM Group and in the provision of bespoke label innovations and technology.
QLM bring labelsalive #makingitforaustralia #labelsalive #qlmlabelmakers